Canoe Wilderness Tour (full day)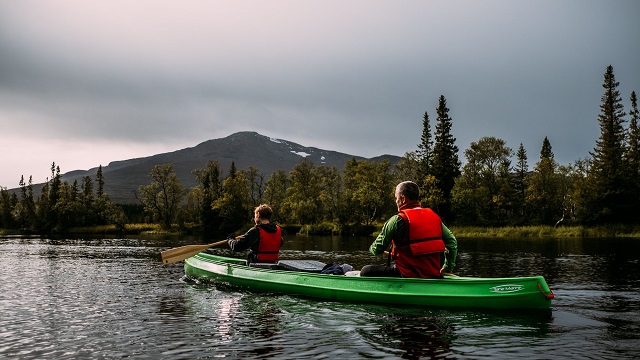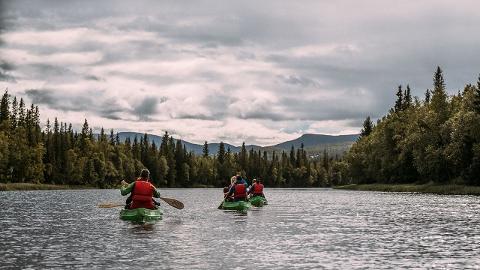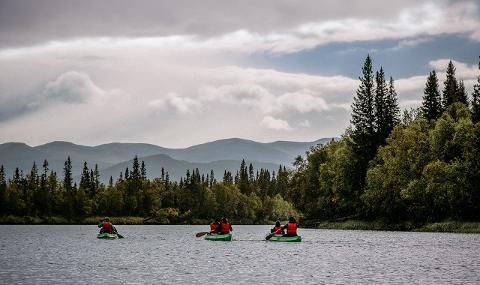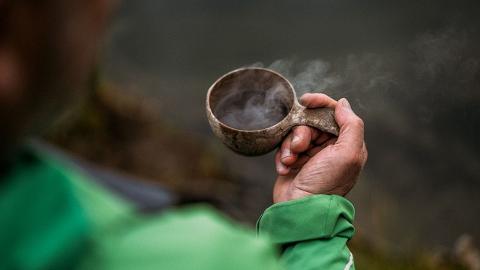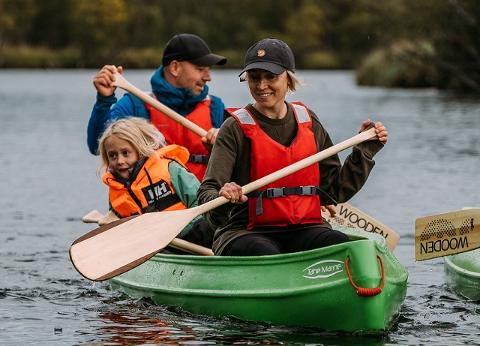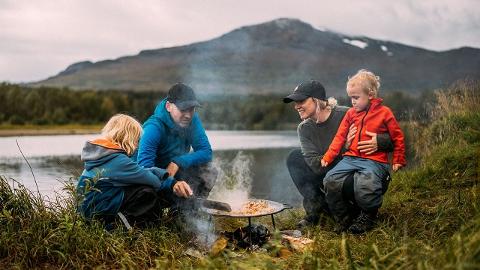 Duration: 6 Hours (approx.)
Location: Åre
Product code: P5Y1VX
Experience the mighty mountains of Jämtland by canoe this summer. Bring your friends, family, or colleagues on this guided full day tour of one of our favourite places,where we paddle our way down a river of crystal-clear waters with a mountainous backdrop. This is a truly marvelous experience, suitable for most, including families. We travel in the direction of the light current, enjoy the surroundings and, of course, stop for an outdoor lunch on the beach.

Contact us for availability for bookings made less than 24 hours before the activity. info@exploreare.se / +46 647 50885
What will I experience?

A full day guided canoeing tour in the mountainous region of Åre.Lunch included.
Where do we start?
We meet up at Draklanda (the parking lot down by Lake Åresjön, just below the VM8 chairlift) and drive in separate cars to the departure point by the river. See map on the right for meeting point.
How long will it take?
Approximately 6 hours in total.
Any minimum/maximum age, height or weight?
A minimum of one person per party should be at least 18 years old at the time of booking and will be held responsible for any younger participants.

Participants taking part in paddling (i.e., sitting in the bow or the stern) should be at least 12 years old and one of the paddlers in each canoe should be at least 15 years old.

Younger children sitting in the middle ("passenger seat") without a paddle should be at least 5-6 years old and maximum 12 yeras.

Maximum weight of passengers and packing in total is 250 kg.
What do I have to bring?
Suitable clothing depending on the weather.

Bring a dry change of clothing as well, in case of an involuntary bath or change in weather. Please pack it in a dry bag or some other sort of waterproof bag.
We also suggest bringing water, a sun cap, sunscreen, and perhaps a sunglasses string and a waterproof case for your cell phone.
Transportation
Participants drive their own cars from the meetup-point in Åre, to the river. From there, we shuttle the cars so that they are parked at the destination when you arrive at the end of the day.
Is there anything else I need to know?
The tour includes lunch; however, the menu may vary depending on supply, or a potential fire ban etc., so please include any food allergies when booking.
Lifejackets are included.
This activity has been developed with environmental sustainability in mind. To minimize potential damage on the local environment, we have carefully considered the location of boat launch/retrieval and lunch. We aim to leave no trace, as per Swedish regulations, and on our tours we use a simple outhouse located at the lunch spot. Furthermore, we have a close, on-going dialogue with landowners and other local stakeholders.